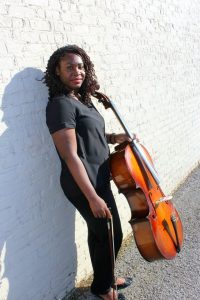 SHO Member Since: Summer 2015
Current job: Public Health Nurse Consultant
Degree/college attended: B.S. in Biology, Tennessee State University and B.S. in Nursing, Tennessee State University
At what age did you start playing cello and when/why did you decide to pursue music as a career: I was about 7 or 8 years old and I remember being at festival in my hometown, Mesa, AZ, watching a cellist playing in a quartet. I remember just falling in love with the sound of the cello and I grabbing my dad's hand and pointing, telling him, "I want to play that!" So, when I entered the fourth grade, I began to play the cello and  continued playing throughout my high school years at Mountain View High School and in college at MTSU and TSU. I took private lessons in Arizona at a very serious studio where my teacher enhanced my natural playing ability and tried to encourage me to enter competitions and play in different settings. Although I loved playing, I didn't have a longing to practice as a teen and young adult, so I didn't pursue music as a career. Nevertheless, as time went by and I accomplished other career goals, I found myself longing to play again and my mother saw an ad in the paper about the Spring Hill Orchestra. Perfect Timing, God's Timing. It had been about 6 years since I plucked a string, but I began playing like I had never put it down and it brought back a such an overwhelming feeling of joy. I fell in love all over again and began taking lessons again in hopes of starting my own cello studio in Spring Hill soon.
Who is your musical hero or inspiration:  Oh wow, well I really love listening to the cello icons Jacqueline Du Pre, YoYo Ma, Rostropovich, etc. Lately I am really feeling a lot of the classically inspired modern, pop music so The Piano Guys, Damien Escobar, 2Cellos, and ThatCelloGuy are definitely musical inspirations. Also, I like to follow the young cellists Sheku Kanneh-Mason and Sujari Britt. Truly inspiring to watch them tap into their craft and be able to develop it the way they have.
A funny musical experience:  Honestly, I think some of the funniest musical experiences I have come from the conductor's podium in the form of Corny Conductor Jokes. Thank you to all the conductors who think of themselves as comedians, especially Dr. Walter Temme, my high school orchestra conductor. You keep music fun.
What was your first orchestral experience: My first orchestral experience was actually my own concert! I still love playing in a full symphony orchestra!
Favorite composer: Some of my favorites are Bach, Haydn, Vivaldi, Rachmaninoff, Dvorak, and Tchaikovsky.
What music do you listen to in your free time:  I listen to pretty much every type of genre there is (except heavy metal). Southern and contemporary gospel, rock, jazz, classical, pop, hip-hop, R&B, country, classical, you name it. I love music and I love to explore all it has to offer.