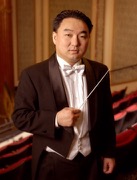 We are pleased to announce that Maestro Joseph Choi will be guest conducting the Spring Hill Orchestra on July 29th, 7:30pm at Faith Lutheran Church. No tickets required.
Maestro Joseph Choi is originally from South Korea but is currently the Artistic Director & Conductor of the Maryland Chamber Orchestra and the newly appointed Orchestra Conductor for the Loudoun (VA) Symphony Youth "Concert" Orchestra and Orchestra Director at Grace Academy in Hagerstown, MD. He is concurrently working on his Doctoral Music Studies (DMA) in Orchestral Conducting at the Shenandoah University Conservatory of Music in Winchester, Virginia.
In the past, Maestro Choi has conducted the East Texas Symphony (TX), Astoria Symphony (NYC), Bohuslav Martinu Philharmonic (Czech Republic), Beethoven Chamber Orchestra (Czech Republic), Phoenix Symphony (AZ), Scottsdale Symphony (AZ), University of Maryland Symphony (MD), Hartt Symphony Orchestra (CT), Maranatha Chamber Orchestra and served as Associate Conductor of Owensboro Symphony (KY) and Assistant Conductor of Evansville Philharmonic Orchestra (IN) and Asheville Symphony (NC). In the past, Maestro Choi also served as Music Director of Owensboro Symphony Youth Orchestra (KY) and Evansville Philharmonic Youth Orchestra (IN).
In October 2015, Maestro Choi made his Conducting Debut at Carnegie Hall conducting to a nearly sold-out concert. In 2003, Maestro Choi made his conducting debut at the Kennedy Center Concert Hall where his performance was broadcast to Prince George's County residents for several months after the performance. In the past, Maestro Choi had also participated in many International Conducting competitions such as Pedrotti International Conducting Competition (Italy), Besancon International Conducting Competition (France), Fundacao Oriente International Conducting Competition (Semi-finalist) and as winner of Macon International Conducting Institute in Georgia. Due to his winning title, he was invited to attend St. Petersburg (Russia) Conducting Workshop to study with Yuri Temirkanov and work with St. Petersburg "Congress" Orchestra.
Maestro Choi is equally comfortable with the band and choral where he continues to attend US Army Band Conducting workshops annually in Washington DC working with US "Pershings Own" Army Band. In 2003, he was named one of two finalists with US Army Band Conducting Auditions, also that same year; he was also named one of 7 finalists for the US Air Force Band Conducting Audition.
In the past, he served as Assistant Conductor and Doctoral Graduate Choral Conducting major at the University of Maryland where he conducted University of Maryland Chorus and Chorale on a regular basis. He also sang "Vespers of Confessore" as a soloist with University of Maryland Chorale and with Annapolis Symphony Orchestra. Also, in the past, he served as paid tenor section leader with Baltimore Choral Arts & Baltimore Symphony Chorus for the Beethoven Symphony No. 9 performance with the Baltimore Symphony Orchestra and as Tenor Section member with CONCORA at the Bard Festival and with American Symphony Orchestra in NYC.
Currently, he is serving as Music Director/Conductor of Gettysburg United Methodist Church (PA), Hagerstown SDA Church (MD) and working as Music Teacher with Mt. Aetna Adventist School in Hagerstown, Maryland. Currently, he and his wife (Angela) have one son Nathaniel (10 years).