Join the SHO for a packed weekend of free classical music!
Rebecca Vendemo and the Spring Hill Orchestra share the stage with special guests Joseph Kingma, Daniel Martins and strings of the Filharmônica Jovem Camargo Guarnieri from São Paulo, Brazil. With crowd pleasers like Rachmaninoff Piano Concerto No. 2, Bizet Carmen Suite and Dvořák Symphony No. 9, you won't want to miss the SHO!
---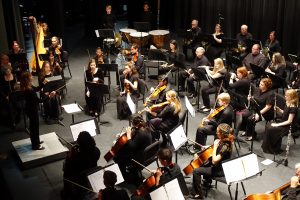 Friday, Oct. 20th, 7:30pm: Columbia State Cherry Theater (Columbia)
Saturday, Oct. 21st, 7:30pm: Calvary United Methodist (Nashville)
Rebecca Vendemo and Daniel Martins, conductors
Joseph Kimgma, piano
Program
AGUIAR Quatro Momentos
RACHMANINOFF Piano Concerto No. 2
BIZET Carmen Suite No. 1 and 2 (selections)
DVOŘÁK Symphony No. 9 (mvt I & IV)
---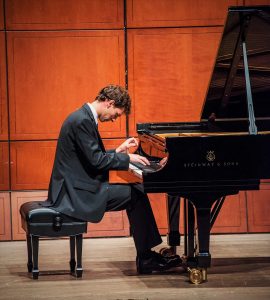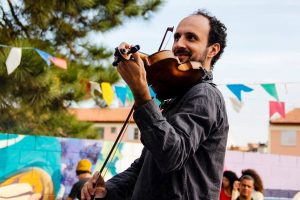 Sunday, Oct. 22nd, 3pm
Piano and Violin Recital at Steinway Gallery of Nashville
Joseph Kingma, piano and Rodrigo Leitte, violin
A free masterclass will be given by Mr. Kingma at 1:30pm at the Steinway Gallery prior to the recital. All are invited to attend.
Program
VALE Two Preludes for Solo Violin
GOMES Quem Sabe?
MOZART Violin Sonata in G Major, K. 301
BARTOK Romanian Folk Dances
LISZT Piano Sonata in B minor, S. 178
---
Sunday, Oct. 22nd, 7:30pm
String Chamber Concert at Faith Lutheran Church, Thompson Station
Daniel Martins, conductor
Strings of the Filharmônica Jovem Camargo Guarnieri and Spring Hill Orchestra
Program
Featuring Music by Brazilian and American Composers
---
About the Artists
Rebecca Vendemo, artistic director and founder of the SHO
Rebecca Vendemo is the founder and conductor of the Spring Hill Orchestra (SHO) located in Spring Hill, Tennessee. Prior to starting the SHO in 2014, Rebecca lived in New York City eight-and-a-half years first as a teaching artist for the Brooklyn Conservatory before beginning a seven-and-a-half-year journey in arts administration at the Metropolitan Opera and New York Philharmonic.
While at the Philharmonic, Rebecca studied orchestral conducting privately with Assistant Conductor Daniel Boico, and composition at Juilliard's Evening Division with Conrad Cummings. She attended conducting workshops with Maestros Gustav Meier, Mark Gibson, Nicholai Ulrich, Alexander Polishchuk, Jorma Panula, Robert Gutter and Ovidiu Balan among others. She was a competition winner at the St. Petersburg workshop, conducting the St. Petersburg Chamber Philharmonic in concert. In 2012 she was invited to guest conduct the Filarmonica Jovem Camargo Guarnieri and Laetare Chamber Orchestra in São Paulo, Brazil.
Rebecca has a master's degree in trumpet performance from the University of Tennessee, and bachelor's degree in music education from Valdosta State University. Her graduate assistantships included co-teaching the trumpet studio, performing with the faculty brass quintet, and playing principal trumpet with the Oak Ridge Symphony. Rebecca has also performed with the Bronx Opera, Musica Bella, Korean Chamber Orchestra, Brooklyn Conservatory, Valdosta Symphony and Albany Symphony. In addition to directing the SHO she has a growing studio of trumpet and cello students.
Daniel Martins, conductor
Conductor, violoncellist and composer Maestro Martins is a professor of various socio-cultural projects and conservatories in São Paulo. He held the position of Artistic Coordinator for the youth orchestra of the Municipal Theater of São Paulo, one of the most prestegious youth orchestras from Brazil.
As a conductor, he has conducted a huge range of performances including operas, musicals, symphonies and educational concerts with the Philharmonic Youth Camargo Guarnieri. From 2010-2012 he partnered with the Methodist University from São Paulo performing more than 80 concerts for thousands of people in São Paulo.
As a cellist Maestro Martins has played in various orchestras and appeared as a soloist in many concert halls. In 2016 he toured with the Sonare Trio through India, playing in the main Center for the Arts in Mumbai.
In 2014 he partnered with the Lutheran Church from Santo Andre City and Mission Eine Welt to perform his chamber orchestra's first international tour of Germany. They performed 19 concerts across Germany. In commemoration of the 500 years of Lutheran Reform he composed a special work commissioned by the Luteran Church from Santo André City.
Joseph Kingma, piano
Praised as "spell-binding", "poetic", and "flawless and expressive", by conductors and concert presenters across the United States, pianist Joseph Kingma performs regularly in venues across the country.
Recent guest artist appearances include the Manassas Symphony, Illinois Valley Symphony, and Brazos Chamber Orchestra, as well as solo recitals in Chicago, Austin, Houston, Dallas, Hershey, and New Canaan. He has also competed in numerous international competitions, winning Audience Favorite in rounds one and two of the 2015 Cincinnati World Piano Competition, as well as prizes in the 2012 Sorantin International Young Artists Competition, the 2011 Brevard Music Festival Concerto Competition, and the 2010 Brevard Music Festival Piano Competition. As a semi-finalist in the 2012 New Orleans Piano Competition, the Musical Arts Society of New Orleans blog applauded his "dazzling technique" and described his performance of Liszt's Sonata in B minor as "an especially personal account".
A committed teacher, Dr. Kingma is the Assistant Professor of Piano at Louisiana College, in Pineville/Alexandria, LA, where he teaches piano and piano-related courses. He is also regularly asked to teach master classes and adjudicate competitions nationally. In 2017, he earned his Doctor of Musical Arts degree at the University of Texas at Austin, where he studied with Anton Nel. Previously, he earned his BM and MM from Rice University, where he studied under the tutelage of Dr. Robert Roux. Former teachers include John Mortensen, Aviram Reichert, Philip Pletcher, and Elena Arseniev.
Rodrigo Leitte, violin
Violinist Rodrigo Leitte was born in Campinas, Brazil. His mother is a pianist and his father a writer. He began playing violin at the age of eight at Carlos Gomes Conservatory of Campinas, where he was a scholarship winner.
After his studies at the conservatory he moved to São Paulo to study at the Municipal School of São Paulo under pedagogue Cecilia Guida, a pupil of Max Rostal. Rodrigo finished his Bachelors degree at the Mozarteum University of São Paulo and then continued his studies with renowned violinists Salvatore Accardo from the Accademia Musicale Chigiana and Igor Ozim in Salzburg, one of the most respected masters of the violin.
In 2014 Rodrigo was invited to travel to Germany with the Camargo Guarnieri Orchestra as concertmaster and soloist. Currently, in addition to a busy performing  and teaching schedule, Rodrigo is also the Artistic Director of the São Paulo Strings Academy and Valinhos Philharmonic Orchestra.
We are thankful for our sponsors:
The Viking Pizza Co. | Jack of Hearts BBQ | Red Robbin | Delta Bound | Long Horns
Middle Tennessee Home Education Association (MTHEA | KROGER Thompson Station 
Sponsors from Brazil:
UNISED
| 
Hitmaker Studio
| 
Instituto Encantos
| 
Bloom Eventos
Adionan Pitta | Alba Araujo | Amélia Fernandes | Soares Analena | Augusto Arrais André Lahoz | Carol Lahoz | Antônio Flavio Pacini | Camila de Jesus Mello Gonçalves Claudia Schaeffter | Claudio Luiz Bueno de Godoy | Eliane de Fátima | Oliveira Eliza Inoue Humberto | Nomura Nishizaki | Laudelino Ramos | Lourdes Scalabrin Luiz Carlos Modesto | Marcia Maria | Abbud Maria | Carolina Mendonça de Barros
Maria Djanice | Augusto Arrais | Matheus de Almeida Arrais | Maria de Lourdes
Dias Freitas | Analena Augusto | Arrais Liana | Augusto Arrais | Fabio Orlovas
Maria Silvia | Orlovas Marisa | Martins Marta | Augusta Mann Prado
Plastino Pedro | Giavina Bianchi Pedro | Pires Sayão | Masaru Kawamura
Rosa Mizuyo Kawamura | Silvia Manami Kawamura | Suzana Honorio Fernandes